In scientific lab environments, micropipettes are used to accurately and precisely facilitate transfer of liquid volumes in the range of microliters. They are extremely important scientific instruments used across a myriad of applications in microbiology, medical and environmental sciences for both academics and commercial research.
In order to perform error-free pipetting, the pipette should be both precise and accurate. In some cases, the terms – accuracy and precision are used interchangeably, but technically, there is major difference between the two. Let's take a look.
Accuracy and Precision of a Micropipette
Accuracy refers to the attribute of being correct, exact and error-free. It's the proficiency of the pipette to give a close to correct value for the liquid volume indicated in the volume setting.
Precision refers to the reproducibility or repeatability of the calibration. When the precision of the pipette is calibrated correctly, there is minimum variation between different readings.
To demonstrate the difference between accurate and precise results, let's use a target analogy. Consider a scenario where four students attempt to hit the target five times. Students A and C are accurate while A and B are precise.
The guiding principle for calibrating a micropipette is universal and revolves around the density of distilled water. In constant temperature and atmospheric pressure conditions, the density of distilled water does not vary and is 1 gram per milliliter (1g / ml) at 25ºC. Therefore, the volume of water dispensed can be calculated using the weight of water.
However, in practical lab conditions, temperature and pressure conditions are not constant. Such discrepancies in liquid volumes negatively impact the outcomes and precision of the equipment. Manufacturers generally calculate and use an additional constant, known as the Z factor, to account for real-world lab conditions.
How to Calibrate a Micropipette: Steps Involved in Pipette Calibration
Pour distilled water into lab glassware and record its temperature.

Take the micropipette and the corresponding tips based on liquid volumes that need to be dispensed.

Place a weight boat on a weighing balance, which can correctly weigh in the microgram range.

Then, pre-rinse the pipette tip by aspirating and dispensing distilled water three to four times. Remember to push the piston completely to remove all the liquid.

After that, aspirate the liquid volume for calibration and dispense it gradually into the weight boat. Ensure that there is no bubble formation in this process.

Then, record the weight value displayed on the balance and repeat the process 7-10 times.

Calculate the volume of liquid dispensed by using the equation V = W x Z, where V is the calculated volume of water, W is the weight of the water and Z is the Z factor.

Then, calculate the mean value obtained from different trials.

Finally, you can calculate the accuracy of the micropipettes using the equation 
A = 100 x Mean Volume / Theoretical Volume, 
where A is the accuracy of the pipette.
Maximum permissible errors for micropipettes as per ISO 8655-2:
Nominal volume

Maximum permissible systematic error

Maximum permissible random error

µl

± %

± µl

± %

± µl

1

5.0

0.05

5.0

0.05

2

4.0

0.08

2.0

0.04

5

2.5

0.125

1.5

0.075

10

1.2

0.12

0.8

0.08

20

1.0

0.2

0.5

0.1

50

1.0

0.5

0.4

0.2

100

0.8

0.8

0.3

0.3

200

0.8

1.6

0.3

0.6

500

0.8

4.0

0.3

1.5

1000

0.8

8.0

0.3

3.0

2000

0.8

16

0.3

6.0

5000

0.8

40

0.3

15.0

10000

0.6

60

0.3

30.0
If the value of accuracy is in the range of permissible error (as per above table), the micropipette is considered as calibrated.
ISO 8655 / ISO 17025 norms for Accuracy / Precision
For pipette calibration, certain standards are defined to guide manufacturers on the quality of the calibration, such as ISO / IEC 17025:2017 and ISO 8655. It's necessary to conform to both of these standards for reliable pipette calibration.
ISO/IEC 17025:2017 is the fundamental competency standard for pipette calibration laboratories. If a pipette adheres to this standard, it implies that a qualified third party has approved the quality, documentation and process of the calibration lab.
The requirements for ISO/IEC 17025:2017 include:
Technician Proficiency Testing

Documented Training Program

Measurement Uncertainty Budget

Test Equipment Certification

Internal / External Audits
ISO 8655 specifies the precise requirements for calibrating the pipette including:
Methodology

Measurement Specifications

Process Requirements

Acceptable Measurement Uncertainties (It's required that measurement uncertainties values are reported along with measurement values).

Lab and Environmental Conditions

Maximum Number of Permissible Errors
How Often Should a Micropipette be Calibrated?
It is recommended to check the calibration of a micropipette every 3-6 months. In case you are deep-cleaning the pipette, you should check the calibration after every reassembly.
The more frequently you adjust your pipette's calibration, the easier it becomes to produce accurate outcomes and find issues that can impact your results. That is why calibrating micropipettes is one of the fundamental parts of good laboratory practices (GLP). In addition, it's a good practice to keep a record of every calibration in a timesheet for future reference. This helps you become aware of the timeframe of all the experiments, in case you detect an issue with the calibration.
Accuracy / Precision of Microlit Products
We pride ourselves in creating state-of-the-art lab equipment, including our bottle top dispensers, micropipettes and burettes that conform to both ISO 8655 and ISO 17025 standards.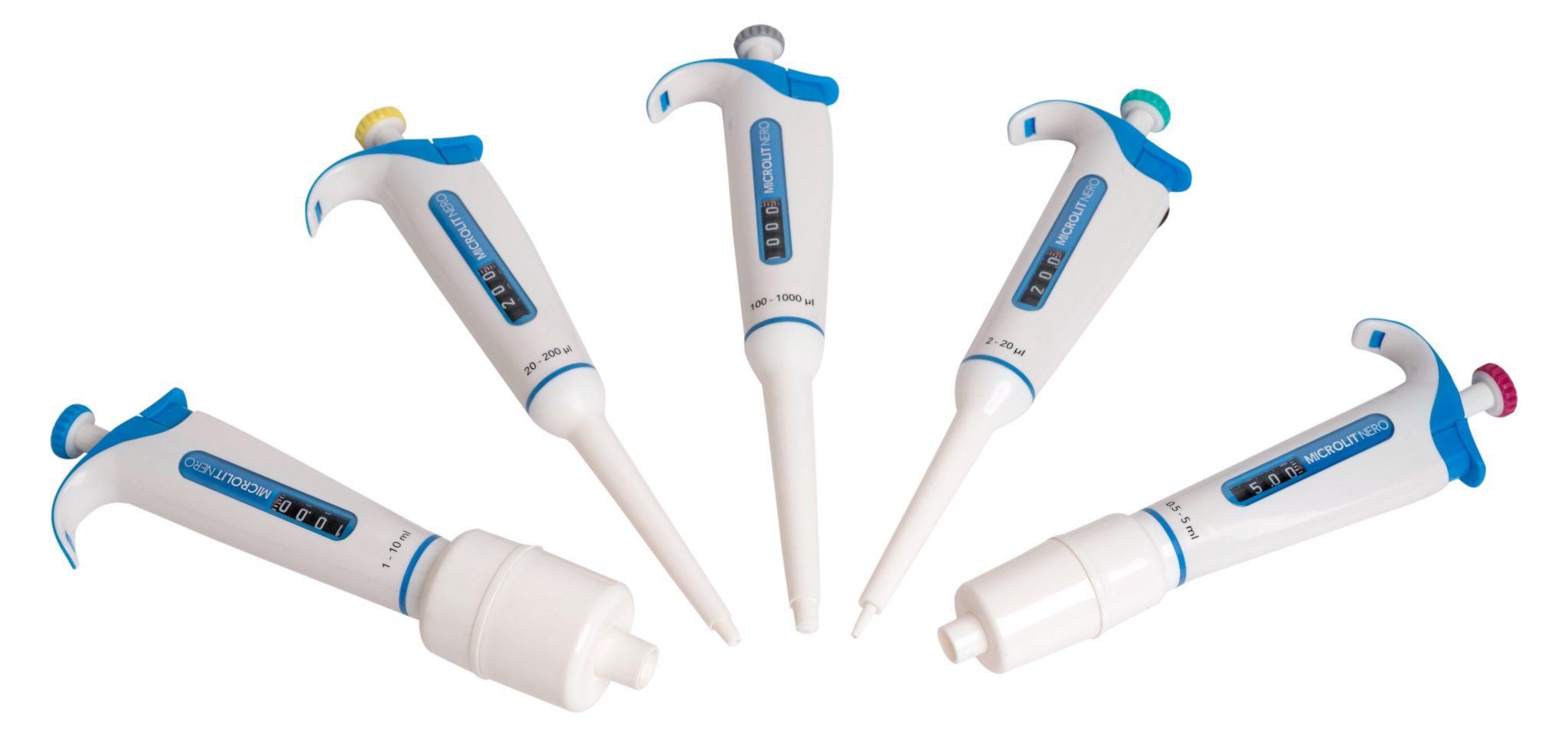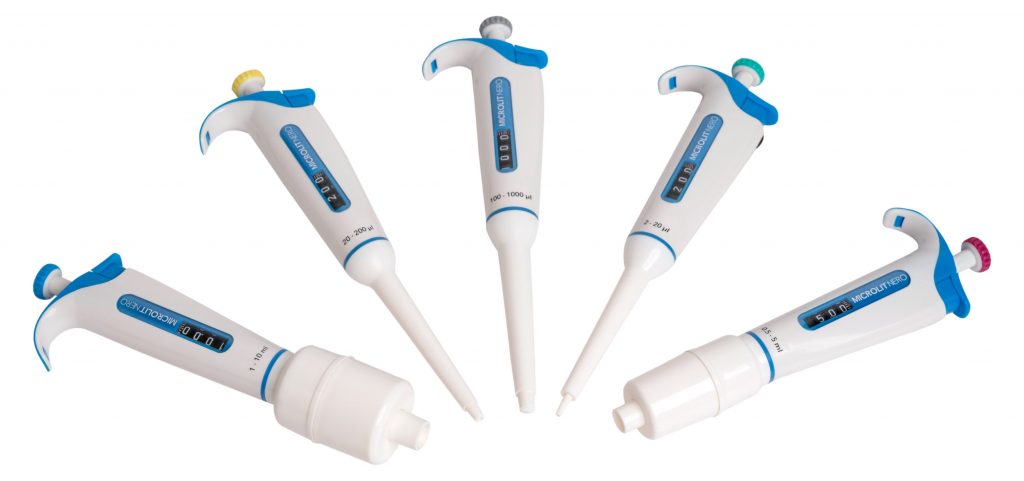 Our new launch, Microlit NERO, is designed using μAir™ (Micro-air) Technology for enhanced accuracy and precision. It helps in reducing the extra dead air space between the pipette tip cone and piston, which ultimately leads to less air compression and high precision. It also features our in-house UniCal™ technology, which is a unique calibration mechanism that enables rapid in-lab calibration in a one-time operation without the need to disengage the digits from the plunger mechanism. This makes the re-calibration process of micropipettes much simpler, time and cost-effective, as well as user-friendly.
If you need micropipettes that can ensure accuracy and precision while providing utmost comfort during pipetting, the Microlit NERO will fulfill all of your lab pipetting requirements. To know more about the features and functionality of Microlit NERO micropipettes, please contact us at info-usa@microlit.com or visit our website Microlit NERO.