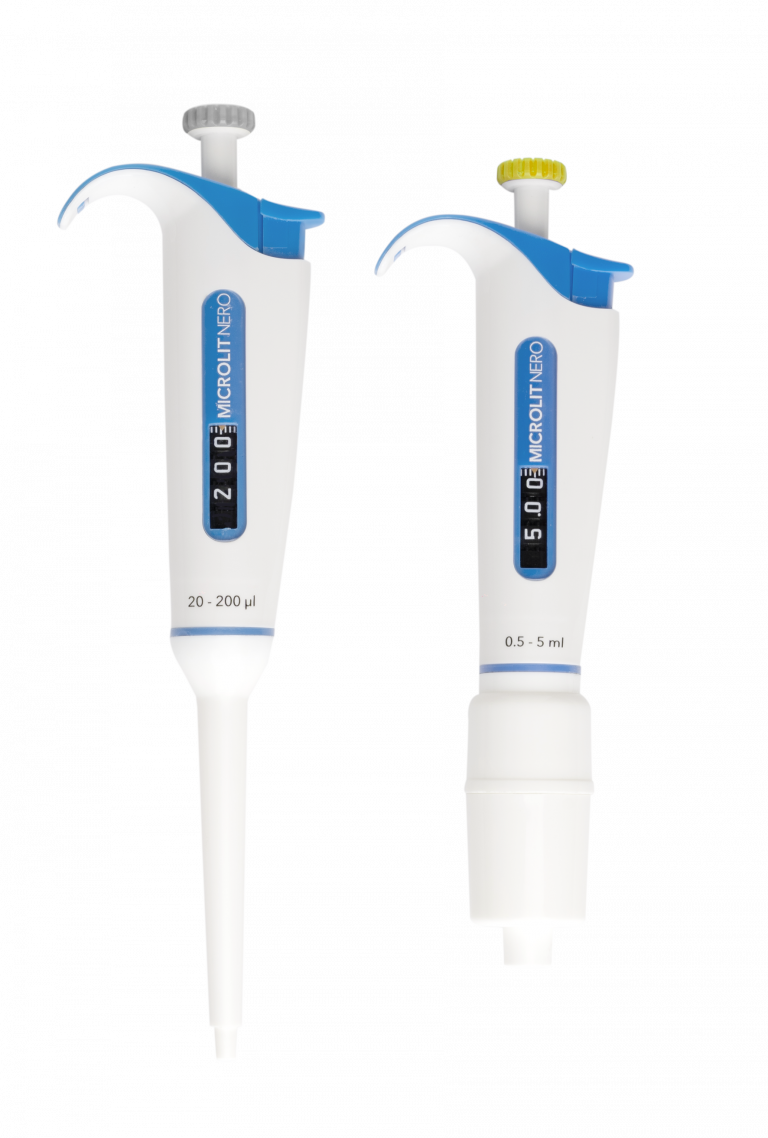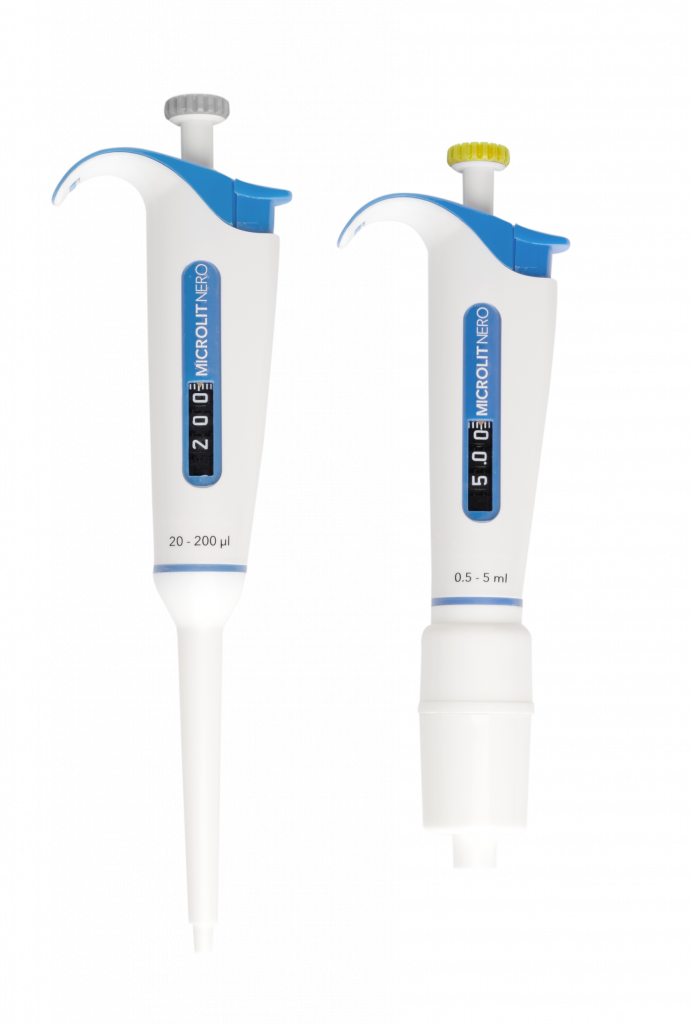 Micropipettes are generally used in laboratories to transfer small amounts of liquid, typically less than 0.1mL. Microlit is excited to announce the launch of Microlit NERO, a range of intuitive micropipettes with state-of-the-art technology such as UniCal™ and Air™ that will ensure great precision and convenience for our lab users.
These innovative and patented technologies have been developed by our in-house product design engineers. Microlit NERO comes in Single Channel Fixed Volume, Variable Volume and Multichannel variants used in pathology, microbiology, and diagnostic testing labs where precise small volume pipetting is critical. Furthermore, they will be extensively relevant for industries such as pharmaceuticals, food and beverage, research institutes, fast-moving consumer goods (FMCG), cement, chemicals, natural resources, and agriculture as well.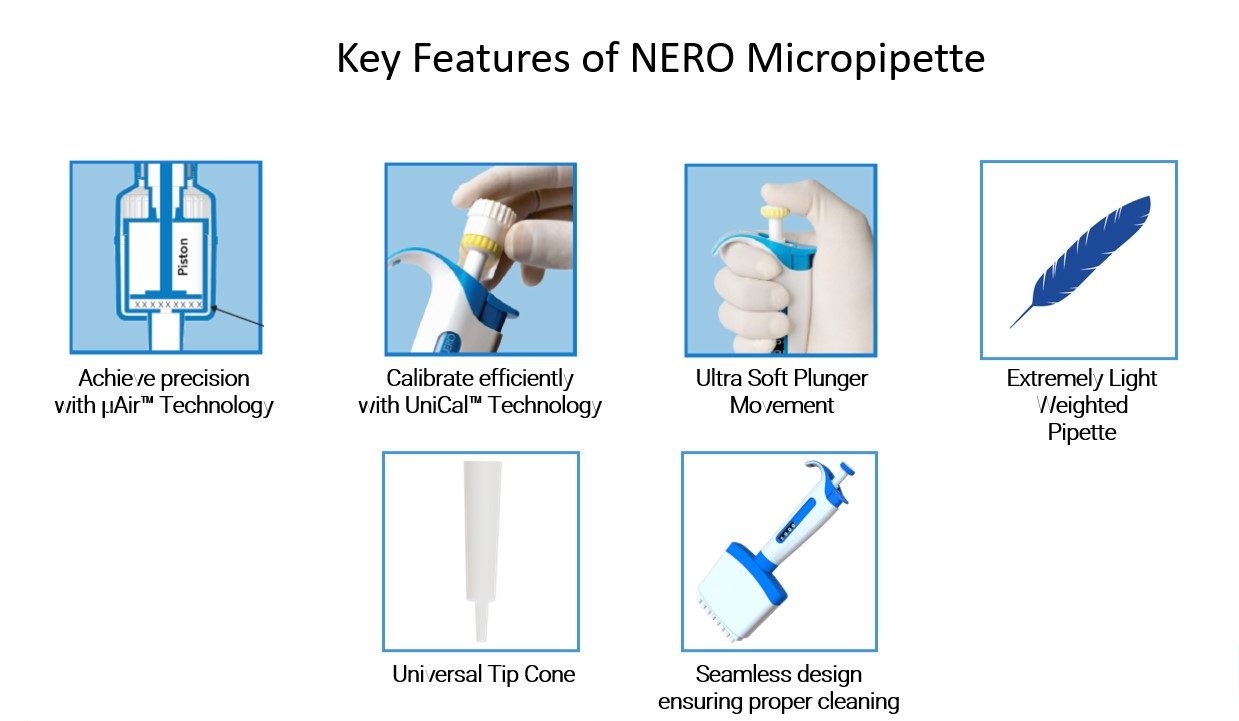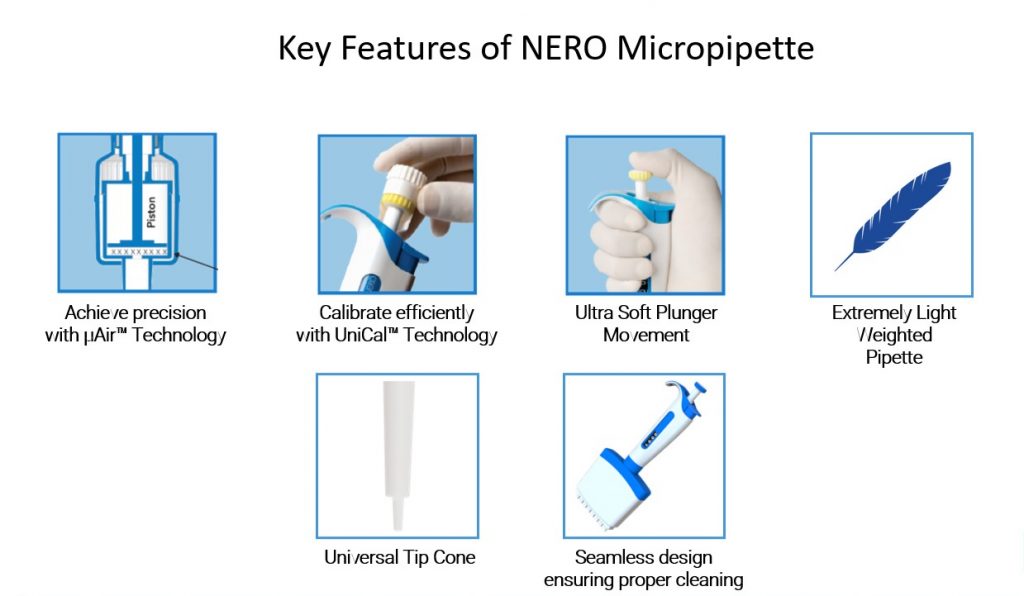 Microlit NERO offers two exclusive features that make it stand out from other micropipettes in the liquid handling product market:
UniCal™ Technology: For one-shot Calibration
The most significant innovation in Microlit NERO is its patented calibration mechanism (Patent No. 405607), UniCal™ technology. This in-house developed unique calibration mechanism enables for rapid in-lab calibration in a single operation without disengaging the digits from the plunger mechanism. 
With the adoption of UniCal™ technology, re-calibration of micropipettes will become a simple and user-friendly procedure that will not require significant time and cost investment. It will remove the inconvenience of the standard hit-and-trial calibration procedures and disassembly processes, as well as eliminate the cost of sending the instruments to 3rd party facilities, even for minor corrections. It enables the lab technician to re-calibrate the pipette without removing any components, disengaging the plunger digits, or aligning calibration markers on the micropipette to the volume adjustment chart in the user manuals.
Every set of Microlit NERO is calibrated in an ISO 17025 approved laboratory according to ISO 8655 standards and comes with a Calibration Certificate.
μAir™ (Micro-air) Technology: For Accuracy and Precision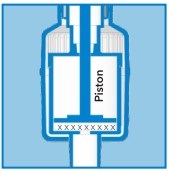 Another salient feature of the Microlit NERO is its "μAir™ technology", which helps to minimize extra dead air space between the tip cone and the piston. Similar to the UniCal™ technology, this technology was developed by in-house engineers. It was designed with the intention of reducing air compression and enhancing user precision in real-world laboratory environments.
A significant amount of dead air space exists between the piston and tip cone of standard micropipettes. This dead air space between the piston and tip cone can be minimized by precisely adjusting the length of the tipcone to what is required for piston movement at maximum volume setting. Moreover, the internal diameter of the tipcone may be reduced to align well with the piston and leave more room for dead air between the tipcone walls. Microlt's NERO micropipettes have significantly increased the precision by eliminating an extra dead air space during product design.
Other Unique Features of Microlit NERO:
Lightweight and Ultrasoft Micropipette
Microlit NERO has been ergonomically designed keeping in mind the customers' ease and requirements. In response to their requests, this micropipette has been made lightweight and features an ultrasoft plunger, removing the risk of routine illnesses like carpal tunnel syndrome could be caused by repeatedly using micropipettes.
Microlit NERO gives the industry's lightest pipetting experience, with 6.5N force for the first step and 14N force for the second step (blowout), making it the most ergonomic pipette available for your laboratory needs.
We compared the plunger forces of various pipettes on the market to our brand new NERO micropipettes and the old RBO pipettes. We discovered that the Microlit NERO has the lowest plunger force on the market, making it the most ergonomic pipette for your laboratory needs.
For Single-Channel Micropipette:
| | | | | | | | | |
| --- | --- | --- | --- | --- | --- | --- | --- | --- |
| | NRO | RBO | Brand 1 (China) | NRO | RBO | Brand 1 (Germany) | Brand 2 (Germany) | Brand 3 (USA)  |
| Volume (μL) | 200 | 200 | 200 | 1000 | 1000 | 1000 | 1000 | 1000 |
| Weight (gm) | 67 | 73 | 78 | 71 | 73 | 93 | 83 | 83 |
| Plunger Force at 1st Step (N) | 0.3 | 0.9 | 0.8 | 0.55 | 0.9 | 0.55 | 0.75 | 0.37 |
| Plunger Force at 2nd Step (N) | 1.5 | 1.8 | 1.9 | 1.5 | 1.8 | 1.8 | 2.3 | 1.28 |
For Multi-Channel Micropipette:
NRO
RBO
Brand 1
(USA)
Brand 2
(USA)
NRO
RBO
Brand 1
(USA)
Channel

8

8

8

8

12

12

12

Volume (μL)

20-200

20-200

20-200

10-100

20-200

0.5-10

1-10

Weight (gm)

125

159

162

158

146

159

176

Plunger Force at 1st
Step (N)

0.61

1.3

0.6

0.9

0.7

1.1

0.9

Plunger Force at
2nd Step (N)

1.8

2.5

1.6

2.6

1.8

2.2

2.8
Color Coding for Easy Identification
Every set of Micropipette NERO comes with a unique color coding added on the top of the Plunger. These color-coding for distinct volume ranges allows lab technicians to easily identify them during daily laboratory routines.
Universal Tipcone for Various Tips use
The tipcone ensures proper fit for the tips. It is best to use a micropipette with a universal tip cone since it makes the device more compatible with most standard tips. The Microlit NERO tip-cone is made to work with the majority of internationally accepted tips, so you may buy any brand of tip without worrying about compatibility issues.
Smooth Tip Ejector for easy Tip Ejection
The Microlit NERO is equipped with a smooth tip ejection technology that enables the safe, effortless, and quick
 ejection of tips.The tips can be easily removed from the micropipette by pressing the tip ejector button with optimal force making all your lab processes very comfortable.
With the above features, Every piece of Microlit NERO is fully autoclavable at 121°C, 15 pressure for 15-20 minutes, which means that these micropipettes can be autoclaved without the need to disassemble any parts or components. This makes autoclaving in the lab more convenient and secure from any kind of cross-contamination.
If you need a micropipette that can ensure accuracy and precision while providing utmost comfort during pipetting, the Microlit NERO will fulfill all of your lab pipetting requirements. To know more about the features and functionality of Microlit NERO, please contact us at info-usa@microlit.com or visit our website Microlit NERO.