An increasing disease burden and a growing aging population have enabled the global pharmaceutical industry to reach USD 1.4 trillion in revenues in 2021. Multiple product launches and rising R&D expenditure has fueled the market growth beyond expectations. Despite the global slowdown due to COVID-19 pandemic, growing number of industry-wide collaborations and M&A activity has transformed the pharma domain and strengthened pharma companies' ties with other businesses. Let's have a look at the world's top 10 pharmaceutical companies in 2021.
Pfizer
Revenue: USD 81 billion
HQ: New York, US
Notable development: COVID-19 vaccines and treatments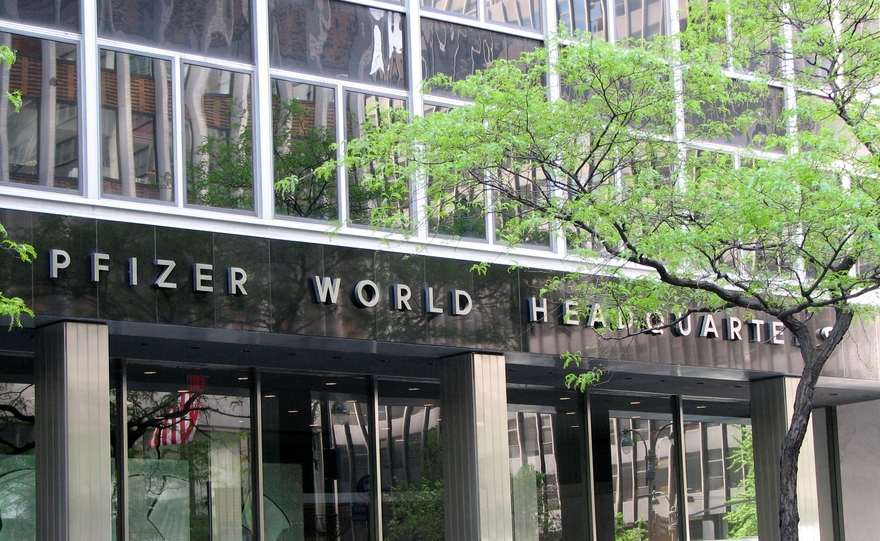 Pfizer,  one of the top pharmaceutical companies, had a great financial year with its revenue growth touching almost 20% in 2021. It has reported sales of more than USD 80 billion and aims to cross the USD 100 billion mark in 2022. The sales were attributed to its successful COVID19 vaccine (Cominarty) and therapy (Paxlovid). These products accounted for almost half of Pfizer's operational revenue.
"We put billions of dollars of capital on the line in pursuit of those goals, not knowing whether those investments would ever pay off. Now, less than two years since we made that commitment, we are proud to say that we have delivered," said CEO Albert Bourla.
Roche
Revenue: USD 68 billion
HQ: Basel, Switzerland
Notable development: Repurchased one third of its shares from Novartis
During 2020-2021, Roche developed various diagnostic solutions for COVID-19, that contributed towards its revenue growth and made it second among the world's top pharmaceutical companies. In addition, Roche repurchased one third of its shares held by Novartis from last 20 years. In addition, Tecentriq got approved as the first cancer immunotherapy for patients with early-stage lung cancer. "Despite all the success, there is still a great need for better therapies in areas such as cancer, dementia and infections", said CEO Severin Schwan.
AbbVie
Revenue: USD 56 billion
HQ: Illinois, US
Notable development: Humira continued to be a blockbuster drug in the US, but faced stiff competition from biosimilars outside US
AbbVie's blockbuster immunology drugs continued to lead it into top 10 in the pharma space. The company's immunology portfolio generated around USD 25 billion globally in 2021, a growth of 14%. With Humira losing business to biosimilars, AbbVie's newly approved drug portfolio, Skyrizi (risankizumab for atopic dermatitis) and Rinvoq (upadacitinib for psoriatic arthritis) are likely to determine its mid-term growth in the future. AbbVie expects that each of the products has the potential to generate more than USD 7.5 billion in 2025.
Johnson & Johnson (Janssen)
Revenue: USD 52 billion (Pharma sales)
HQ: New Jersey, US
Notable development: Divided its consumer health and pharmaceutical product verticals into two separate companies
 In 2021, Johnson & Johnson went through a major restructuring of business by splitting into two separate companies focused on consumer products and pharmaceuticals.
It's immunology portfolio generated around USD 16.7 billion last year, followed by oncology. Like AbbVie, J&J is losing sales of its blockbuster drug, Remicade, because of competition from biosimilars. Further, its consumer health division is going through legal difficulties due to the claims about its talc-based products being carcinogenic.
Novartis
Revenue: USD 51.6 billion
HQ: Basel, Switzerland
Notable development: Initiated a 'strategic review' to spin-off its subsidiary Sandoz
 In 2021, Novartis got 21 product approvals across US, EU, Japan and China, which included two new molecules. The revenue of the company grew by 6% as compared to the last year. The major revenues stemmed from Cardiovascular, Renal and Metabolism segments, that witnessed an overall 43% increase.
 "We have a promising mid- and late-stage portfolio, with more than 20 assets with expected approval by 2026 that each have sales potential over USD 1 billion," said CEO Vasant Narasimhan.
Bayer
Revenue: USD 49 billion
HQ: Leverkusen, Germany
Notable development: Crop Science witnessed considerable increase in prices and volumes
Bayer has been investing profusely with a USD 2 billion acquisition deal, wherein it acquired a San Diego-based biotech firm. It also acquired various manufacturing plants based out of Latin America and Norway.
Merck
Revenue: USD 48.7 billion
HQ: New Jersey, US
Notable development: Got approval for oral antiviral treatment for COVID-19 – molnupiravir
 In 2021, Merck announced that its acquiring Acceleron Pharma. Its pipeline is also advancing steadily, and its oral antiviral for COVID-19 (monlupiravir) got approved by the FDA. Monlupiravir was developed in collaboration with Ridgeback Biotherapeutics and generated USD 952 million in the last quarter of 2021.
"We enter 2022 with strong momentum and are moving with speed to bring forward innovations," said CEO Robert Davis.
Bristol Myers Squibb (BMS)
Revenue: USD 46.4 billion
HQ: New York, US
Notable development: Eliquis, a blood-thinner medication grew by 17% in revenues
BMS' blockbuster drug, Eliquis, reached USD 10.7 billion in sales in 2021. "2021 was a pivotal year for our company as we achieved significant regulatory and clinical milestones and positioned the company to successfully renew our portfolio," said Giovanni Caforio, CEO, in a press release.
GlaxoSmithKline (GSK)
Revenue: USD 46 billion
HQ: London, UK
Notable development: Generated sales of over USD 1.9 billion in COVID-19 based products
GSK's developed sotrovimab, one of the few COVID-19 treatments shown to have worked against the Omicron variant, in partnership with Vir Biotechnology. The product was one of GSK's highest revenue generating assets in 2021.
 "This is going to be a landmark year for GSK, with a step-change in growth expected and multiple R&D catalysts, including milestones on up to 7 key late-stage pipeline assets. 2022 is also the year when we demerge our world-leading Consumer Healthcare business", said CEO Emma Walmsley.
Sanofi
Revenue: USD 43 billion
HQ: Paris, France
Notable development: For the first time ever, Sanofi's Specialty Care division reaped in the maximum revenues of all its business units 
In 2021, Sanofi was able to get 8 major products approved in the US and EU, including Libtayo, Sarclisa, Dupixent and Nexviazyme. Further, its specialty care business division turned out to bring in maximum sales, almost double the sales of vaccines unit.
"Sanofi has closed 2021 with a strong performance in the fourth quarter driven by high double-digit sales growth of Dupixent, which continues to set impressive record sales quarter after quarter. This quarter marks the first time Specialty Care has led our GBUs by sales, highlighting a significant milestone in our transformation," said CEO Paul Hudson.
if you are looking any liquid handling products listed in Microlit, please contact us at info-usa@microlit.com or visit our website Microlit.